2020 Rolls Royce Dawn
WHITE EXTERIOR WITH WHITE, DARK BLUE AND ORANGE INTERIOR
There are no features available
Year 2020
6.6 Liter V12
8 speed automatic transmission
563 Horsepower
Rear wheel drive
European specs
Exterior White
Interior white with Orange and Black lines
Dark Blue Convertible Hood
-------- Additional features -----------
* AUX audio in
* Fog Lights
* Climate control
* Alarm
* Navigation system
* Cruise control
* power seats
* Tuner / Radio
* Parking sensors
* keyless go
* Leather Seats
* Xenon Headlights
* Premium Paint
* Parking Assist
* ABS
* Airbags
* Bluetooth
ROLLS ROYCE PRICE, ROLLS ROYCE PHANTOM, ROLLS ROYCE GHOST, Rolls-Royce Dawn, Black Badge, showroom, bespoke, twin-turbo V12 >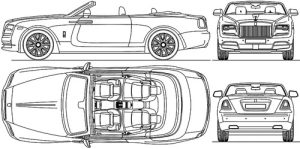 what is the Rolls Royce price?
The Rolls-Royce Dawn carries all the characteristics of any other car from the brand – comfort, luxury, and power in spades. But with its roof being taken off, you might think that it doesn't end up being as refined and supreme as its siblings.
But what you must always remember about a Rolls-Royce is that it always ensures that the owner – or their chauffeur – is in as much comfort as possible behind the wheel. The Dawn doesn't disappoint on that promise.
Some may find the looks a bit too showy, with the big grille, huge bonnet, and massive wheels being typically Roller. But you could never knock its overall design. As a complete piece, it's magnificent and you'll find it difficult to find a more elegant posh convertible.
Black Badge (ROLLS ROYCE PRICE)
The Black Badge version we tested came with plenty of black detailing, such as on the wheels, the grille, and the 'Spirit of Ecstasy' – with most of the chrome replaced by a black trim. As with any Rolls-Royce though, you can give this any finish you so desire – with nearly infinite combinations of paint and trim colors on offer.
Inside is where the attention to detail shines. The leather seats are the finest you'll find in any car, while the materials used for the trims are of the highest quality. There's enough space for two in the back – unless you go for the aero cowling that is fitted to the back seats to make this even more streamlined. But that would mean driving it yourself, and if you've got a driver to take you places, you might not want that.
One less than the optimum part about this car though is the infotainment. It's a rather ancient version of BMW's iDrive system, and as this car is now six years old, it really shows how far the system has come when you see the tech in new BMWs.
You may not be able to carry as much with you either, as the boot is only 295 liters. That's the same as a Ford Fiesta. Convertibles aren't usually the most practical though, and if you have one of these, you'll probably have staff in another car follow you with your luggage.
As with other modern Rolls-Royces, you get motorized doors to help you get in and out. They have sensors too to stop them from hitting obstacles – although that can not work as well on hills which is, again, annoying. You also get the umbrella at the door opening.
ENGINE AND
Under the bonnet is a 6.6-liter twin-turbo V12 developing 571hp and 820Nm of torque – more than enough to waft around. That means 0-60mph can be achieved in just 4.8 seconds, while the top speed is limited to 155mph. The Black Badge version we drove comes with slightly more power at 601hp, but the on-paper performance stays the same.
The gearbox works in tandem with the sat-nav to provide the optimum gear for junctions and corners, meaning a smoother driving experience and the engine is more responsive.
As you would expect when driving the Dawn, it feels super comfortable and only the largest of bumps are transferred into the cabin. It is quite long at 5.3 meters, so maneuvering can be a little tricky around town or when making a U-turn.
ROAD
Out on a country road or motorway, this is truly unmatched for comfort. It feels soft and super easy to drive – and with the roof down on a nice day, there is little to no wind noise. When you do start to push a little harder, you start to feel Dawn's 2.4-tonne weight a bit more through the corners – but it's very rare that you'll actually drive this like a sports car…
This Rolls (as with any Rolls) doesn't push you on to drive it like a maniac, and when you want to take a cruise with the roof up, it is basically as quiet as the Wraith coupe on which it's based.
If the driving luxury wasn't enough, you get all the equipment you could ever want. Adaptive cruise control, heated and cooled seats, LED headlights, a head-up display and a bespoke sound system (which can drown out the noise of traffic around you) are all fitted, as well as a suite of safety systems.
ROLLS ROYCE PRICE RANGE
But how much will you need to turf the cushions over on your sofa to get one of these? Well, the Dawn starts from £282,000 before any options are added, so you're probably looking well in excess of £300,000, maybe even £400,000 before you get the Rolls-Royce Dawn you want. But for all the luxury and gravitas this car has, you can see why it's worth that much.
Rolls Royce ghost and many others are available at our showroom
Latest Arrivals
Browse through the vast selection of vehicles that have recently been added to our inventory.