Bentley Cont. GTC Speed Convertible
There are no features available
Year 2023
6.0L Twin-Turbo V12
8 speed automatic transmission
650 Horsepower
All wheel drive
European Specs
Exterior White
Interior Light Beige and Brown
-------- Additional features -----------
* Bluetooth
* Climate Control
* Cruise Control
* Cooled Front Seats
* Leather Seats
* Parking Sensors Rear
* Rear Camera
* Power Seats
* Power seats with memory
* ABS
* Sport suspension
* Keyless go
* Fog Lights
gtc speed, 659 ps, 60 mph, bentley continental gt speed, bentley continental gtc, wheel drive system, diamond quilting, bentley rotating display, 659 ps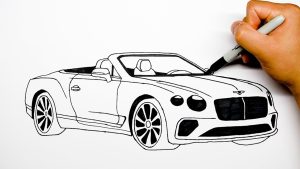 Continental GTC Speed
EXPERIENCE TRUE FREEDOM
Meet the ultimate sports-focused convertible grand tourer. Built to exhilarate at a moment's notice, this is the most powerful Continental GTC ever built. Its 6.0 litre W12 engine is capable of producing 650 bhp (659 PS) – enough to propel it from zero to 60 mph in just 3.5 seconds (0-100 km/h in 3.6 seconds).
Every aspect of the car is designed make the most of the convertible experience, with an array of cutting-edge chassis systems coming together to enhance the way it drives. With unique Speed styling, inside and out, the Bentley Continental GT Speed convertible represents a darker more purposeful, more technical take on the world's most luxurious grand tourer. Consider it a car to excite you in more ways than one.
Performance gtc speed
BLISTERING PERFORMANCE
Experience the most powerful convertible Bentley has ever built, delivering incredible performance for a four-seat, open-top car. The numbers say it all: 650 bhp (659 PS), 0-60 mph in just 3.6 seconds (0-100 km/h in 3.7 seconds) and a top speed of 208 mph (336 km/h).
A ROOF YOU CAN DROP WHILE YOU DRIVE IN GTC SPEED
You can raise or lower the roof while moving at speeds of up to 30 mph (50 km/h) – then you're free to accelerate to speeds as high as the local laws will allow. You might be driving, but with the top down you'll feel like you're flying.
ENHANCED SPORTS MODE
Four drive modes include the exhilarating Enhanced Sports mode, which optimizes the engine, transmission, and suspension settings to boost dynamic ability. It even gives the exhaust a more thrilling roar.
TAKE CORNERS WITH CONFIDENCE
The Continental GTC Speed features an electronic Limited Slip Differential (eLSD), which can proactively vary the amount of torque that is transferred to each rear wheel – so you can accelerate out of corners with greater control.
A RIDE WITHOUT COMPROMISE
With Bentley Dynamic Ride, a 48-volt electronic anti-roll system that adapts to driving conditions to control body roll, the cabin will stay level when cornering at speed, without compromising on comfort during more relaxed drives.
EFFORTLESS MANOEUVRES
The car features all-wheel steering, which reduces its turning circle when maneuvering at low speeds, while also enabling you to switch highway lanes quickly and confidently, without body roll.
Design
UNRIVALLED STYLE
Shaped to cut through the air, the Continental GTC Speed exudes a racetrack attitude. The Styling Specification adds a gloss carbon fiber body kit featuring a mirror-matched weave pattern. The front grilles and internal components of the front and rear lamps are treated with a dark tint, for extra presence.
Inside, the seats feature a unique Speed color split and Speed embroidery. From the diamond quilting to the graphics in the instrumental panel, right down to the sports pedals at your feet, this is a cabin with undeniable sporting style.
Technology
FORWARD-LOOKING FEATURES
THE BENTLEY ROTATING DISPLAY
At the touch of a button, the Bentley Rotating Display prompts the car's central touchscreen to revolve away out of sight, to be replaced by a veneered panel bearing three beautifully crafted analog dials. Technology is used to transform the experience of every occupant, from the Pirelli Noise Cancellation System to the built-in air ionizer that continuously purifies the air while the roof is closed.
CONNECTED TO YOUR WORLD
With Apple CarPlay* installed as standard, alongside a suite of My Bentley connected services including a Wi-Fi hotspot, Online radio, and Real-time traffic information. See the full range of services here.
*Apple CarPlay is a registered trademark of Apple Inc.
NEW STANDARDS IN SOUND
In addition to the standard Bentley Signature Audio system you can choose from the 16-channel Bang & Olufsen for Bentley or the 20-channel Nami for Bentley – considered by many to be the world's finest in-car sound system.
OPEN-TOP DRIVING ALL YEAR ROUND
Ventilated seats make summer driving extra pleasurable, even on the hottest afternoons. For cooler days, heated armrests, a heated steering wheel, and discreet neck warmers make every journey a joy.
ASSISTIVE FEATURES FOR THE CITY
The City Specification gives you a range of digital driver assistance features, such as a Top View Camera, alert systems for use when reversing, Park Assist, Auto-Dimming Mirrors and Hands-Free Boot Opening.
EFFORTLESS ON THE OPEN ROAD
For longer journeys, the Touring Specification adds a Head-Up Display, Night Vision Camera, Adaptive Cruise Control and Lane Assist, while Bentley Safeguard Plus adds additional warning systems to keep you safe.
Personalization gtc speed
VISION BECOMES REALITY
You can choose from a wide range of sporting details and technical finishes. It starts with the exterior, where you can choose from 16 standard colors. With the extended range and Mulliner Paints, that total grows to more than 80. Your chosen paintwork can be paired with any one of seven hood finishes, including matt fabrics and a contemporary tweed option.
Inside, the Colour Specification gives you a choice of 15 primary hide colors, with 11 further choices for the secondary hide in the unique Speed color split – including racetrack-inspired Dinamica. Your selection can be complemented with an equally wide range of stitching and piping options to define your style.
There is a wide range of striking technical finishes for the veneered surfaces, alongside more open-pore wood finishes and more traditional high-gloss woods.
To start configuring your perfect Continental GTC Speed, please click below. To explore even more possibilities, talk to your dealer about instructing Mulliner, Bentley's personal commissioning division, to create a truly bespoke car.
The Engine
The Continental GTC Speed is available with Bentley's twin-turbocharged 6.0 liter W12 petrol engine, for truly unrivaled performance.
W12 Performance Max Power650 BHP @ 5000 – 6000 RPM
Max Torque664 lb-ft @ 1500-5000 RPM
Engine Capacity5950 cc
Fuel Type Petrol (RON95)
Acceleration0 – 60 mph in 3.6 seconds
Max Speed208 mph NEDC drive cycle
Combined Fuel Economy19.8 mpg
Urban Fuel Economy13.3 mpg
Extra Urban Fuel Economy27.4 mpg
NEDC drive cycle – WLTP equivalent
Combined Fuel Economy20.5 mpg
Urban Fuel Economy27.4 mpg
Extra Urban Fuel Economy14.4 mpg
Combined Driving Range407.62 miles
Combined Fuel Economy20.0 mpg
Extra High Fuel Economy24.4 mpg
High Fuel Economy23.7 mpg
Medium Fuel Economy18.8 mpg
Low Fuel Economy11.6 mpg
Driving Range397.06 miles
City Driving12.0 mpg (US)
Highway Driving18.0 mpg (US)
Combined14.0 mpg (US)
Weights and Volumes
Unladen Weight (Region2)5388 lb
Boot Volume8.3 cu-ft
Fuel Tank Capacity20.0 gallons
Fuel Tank Capacity (US)24.0 US gallons
Dimensions Overall Length190.9 in
Width Across Mirrors86.1 in
Overall Height55.1 in
Wheelbase112.2 in
Performance
Max Power659 PS / 485 kW @ 5000 – 6000 RPM
Max Torque900 Nm @ 1500-5000 RPM
Engine Capacity5950 cc
Bentley continental GTC, wheel drive system, twin-turbo, grand tour, exhaust system, and more
Latest Arrivals
Browse through the vast selection of vehicles that have recently been added to our inventory.