2022 Mercedes G 63 AMG [SOLD]
white with red interior
buy car in dubai, we buy any car dubai, buy new car in dubai, we buy cars, mercedes sports car, used car showroom, used car showroom, car showroom, g class
buy car in dubai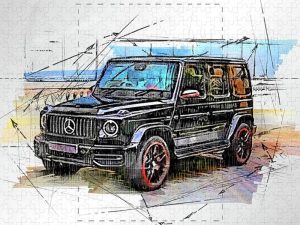 Mercedes g63 
Mercedes-Benz's iconic G-wagon SUV has roots as a military vehicle, and again the high-performance 2022 Mercedes-AMG G63 model.
Finally serves an entirely different driver than the 1970s original.
In addition a 577-hp twin-turbocharge V-8 engine gives the G63 incredible performance, and its posh cabin offers all the modern amenities we've come to expect from a top-spec Mercedes.
Moreover a host of infotainment and other tech features that would seem like science fiction to the designers of the original truck are standard.
Besides to go off-road?  The G63 can tackle those tasks too, although we are nervous about nicking its sporty-looking 20-inch wheels.
No matter how you intend to use it, certainly the G63 is built to impress and its price tag reflects both its skillset and status.
The standard equipment list is quite livable, however, since every Mercedes-AMG G63 comes with:
Firstly 20-inch wheels
Secondly adaptive suspension damping.
Thirdly a front brush guard.
Fourthly leather upholstery,
On the other hand heated front and rear seats, and three-zone climate control.
We would option our G63 with the Seat Comfort package.
Engine, Transmission, and Performance
All G63s come with a twin-turbocharge 4.0-liter V-8 engine that makes 577 horsepower and 627 lb ft of torque.
A nine-speed automatic gearbox with steering-wheel-mounted paddle shifters sends all that power to the all-wheel-drive system.
 4Matic, in Mercedes marketing lingo
Low-range gearing (2.93:1 reduction) is standard as are three locking differentials, allowing the G63 to scale steep dirt grades with ridiculous ease.
At our test track, the nearly 5800-pound G63 rocketed from zero to 60 mph in just 3.9 seconds.
Along with its extra power, the G63 has AMG-specific suspension tuning.
Ride comfort is vastly improved versus older G-wagons, but given this SUV's towering height and off-road mission,
you shouldn't expect much in the way of handling ability.
And there's still quite a bit of wind noise at highway speeds.
Properly equipped, the G63 can tow up to 6500 pounds.
There are no features available
Mercedes-Benz G63 AMG in Dubai at Dourado luxury cars
Year 2022
Handcrafted AMG 4.0 liter - v8 biturbo
Torque 627 lb-ft @ 2,500-3,500 rpm
Acceleration 0-60 mph 4.5 sec
9 speed automatic Transmission
577 Horsepower
EURO Specs
Exterior White
Interior Red and Black
-------- Additional features -----------
* Shining Carbon Fiber (Inside the Door, Console, Dashboard),
* White and Black Seats Made With Nappa Leather
* Rims With Black Matte and Caliper
* Steering Wheel Made With Grey alcantara and Carbon Fiber,
* Apple car-play
* parking sensor rear and front
* Bluetooth system
* climate control
* power seats
* power windows
* 360 degree camera
* Tuner / Radio
* keyless go
* 22 inch wheels
| | |
| --- | --- |
| Year: | 2022 |
| Make: | Mercedes-Benz |
| Model: | G 63 |
| Body Style: | SUV |
| Transmission: | 9-Speed Automatic |
| Condition: | Brand New |
| Drivetrain: | AWD |
| Engine: | 4.0L V8 |
| Exterior Color: | White |
| Interior Color: | Red and Black |
| MPG: | City / Highway |
Recent Vehicles
Browse through the vast selection of vehicles that have recently been added to our inventory.